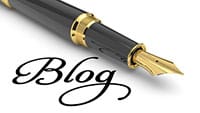 Setting up a blog is easy, and free, with the use of WordPress and the many pre-formatted, customizable templates offered through their site.  In my coaching, I teach clients how to set up a blog using WordPress and walk them through affordable hosting, utilizing the same host provider I use for my blogs.
More importantly…
Blogs build a relationship with your readers. Blogs give you the opportunity to communicate with your audience on an ongoing, and always up-to-date, basis. And unlike traditional publishing, with the comments section, blogs offer the ability of two-way communication with your audience.  Your readers become invested in you in ways other forms of publishing just don't afford. This opens the doors to endless opportunities and gives your readers a sense of belonging and sharing in your journey, and thus your success.
What else?
Blogs by their very nature are always promoting.  Unlike other websites, blogs are always changing and thus attracting search engines like Google to notice them on a regular basis. Today, blogs are considered a strong and reliable source of information.  And, the production of good, solid content will cause your site to rise in the search engine rankings, attracting more and more readers along the way.
Social media is a part of everyday life now for people.  And, with the share features and capabilities, your blog, every post on it, and every page can easily be shared by readers on multiple forms of social media, like Facebook and Twitter. Your readers do the advertising for you and their friends and followers become your potential readers and subscribers.
As is proven, bloggers can be considered experts on their topics of choice regardless of their qualifications.  They are judged solely on the strength of the content on their blog. This means anyone can share what they're passionate about and grow, with their blog, as an expert in their field.
Most importantly though, blogs allow you to share your passion with the world, make money doing it, and do what you love every day.
To learn how you can start, grow, and make money with your own blog today, click here.  Already have a blog and looking to take it to next level? Click here